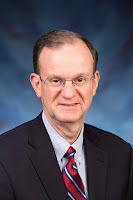 By: Richard Carnes- President & CEO
The most likely reason people fail to plan their finances, especially the preparation of an estate plan may fall into the category of "life just gets in the way." For some it's "I'm too busy," for others it's the uncomfortable idea of planning to die, and for another group their reason may be "no one can know the future," so why plan if things are just going to change.
The reality is, if we develop a plan, for our family vacation, a party at our home, a career change, and yes, stewardship plans for our family and our finances, these events will all go more smoothly and our lives may be less stressful.
The Kentucky Baptist Foundation strives to fulfill its Christian service mandate to individuals through a variety of educational efforts. One of the ways this is done is through the presentation of educational seminars within your local church. Examples of the seminars are as follows:
Estate Planning Mistakes and Solutions – Discover what the ten biggest estate planning mistakes are and how to avoid them to assure your make the most of what you have.
Who Will Be In Charge If …? – Explores incapacity planning tools – powers of attorney, health care advanced directives, Living Trusts and what happens if no prior planning has been done.
Legacy Giving Ideas – Ways to give that benefit the giver as well as the charity – gifts of appreciated assets; gifts of life insurance and retirement assets; and life income gifts.
Ask A Lawyer – The Foundation's attorney, Laurie Valentine, is ready to answer your estate planning, incapacity planning, long-term care planning and charitable gift planning questions and … there's no "meter" running.
Ways To Make Gifts To Your Church – Estate stewardship giving ideas to encourage church members to take stewardship to a deeper level – what to give, how to give, and why we should give.
These topics and more are available as no-cost stewardship education seminars that can be conducted at your church. The Kentucky Baptist Foundation's trust counsel, Laurie Valentine and I will welcome your invitation. For more information, please call us at (502) 489-3533 or toll free in KY at 1(866) 489-3533.
The information in this article is provided as general information and is not intended as legal or tax advice. For advice and assistance in specific cases, you should seek the advice of an attorney or other professional adviser.