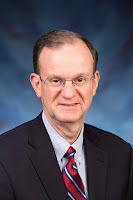 By: Richard Carnes- President & CEO
Recently, my wife Karen and I had the great joy of caring for our 21 month old granddaughter while our son and daughter-in-law traveled on a weekend trip. We played, we hugged, we read bible stories and we ran around the house together, giggling and laughing all the way. As I listened to each new word and observed each new skill that she was developing, it became abundantly clear that I was observing a major piece of my unfolding legacy.
As I watched her and as she held my hand, walking ever so tentatively at times, it dawned on me that I was blessed to help her take the first of what will be millions of steps toward her own legacy. My heart nearly explodes with joy and desire to help her develop her potential and most importantly, come to her own personal relationship with Jesus.
I might also call this experience a part of investing for eternity. This type of investment includes passing on values, perpetuating traditions and promoting ideals for future generations. Each of us has the opportunity to incorporate this type of investing into our families and similarly into our churches and church related ministries. There are likely ministries you want to nurture and financially provide for, such as: mission endeavors, Christian education programs, children's care, support efforts at your church and many other ministries for the building of God's Kingdom.
As you watch the unfolding of your legacy, consider including charitable gifts in your estate and financial plans. This type of investing for eternity will assure that your generosity continues beyond your lifetime.
The Kentucky Baptist Foundation staff is available to assist you by providing private estate stewardship consultation. You may contact the Foundation's trust counsel, Laurie Valentine, or me at our toll-free number (866) 489-3533.
Richard Carnes is president of the Kentucky Baptist Foundation, P O Box 436389, Louisville, KY 40253; toll-free (866) 489-3533; KYBaptistFoundation.org
The information in this article is provided as general information and is not intended as legal or tax advice. For advice and assistance in specific cases, you should seek the advice of an attorney or other professional adviser.