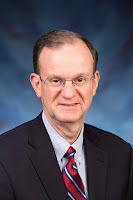 By: Richard Carnes
On March 8, 2017, the Kentucky Baptist Foundation (KBF) celebrated its 72nd anniversary of service to Kentucky Baptist individuals and ministries. Despite our strong history, we continually encounter Baptists who are unaware of our estate stewardship ministry. I am convinced the Foundation's greatest challenges have been, and continue to be, our visibility, awareness, and understanding among Kentucky Baptists.
From the beginning of the Foundation's ministry, its' Core Convictions have been:
1. God is creator and owner of all things and we are called to be His stewards (managers).
2. How we plan our estates will likely be the single most significant act of financial stewardship we will ever make.
3. Through estate stewardship, each of us can impact the world for Christ.
4. To be successful in reaching their communities and the world for Christ, churches must be equipped to cultivate and secure legacy gifts their members are inspired to give.
One way we plan to increase our visibility is with a new initiative — the KBF Ambassador Program. The Ambassador Program's purpose is to create a network of ministerial and lay leaders who will enhance the visibility and awareness of the Foundation's ministry and services by serving as the Foundation's cheerleaders and encouragers in their congregations and communities.
Ambassadors in the KBF program will have the opportunity to become knowledgeable of the Foundation's ministry and services and recommend the Foundation's services to individuals or churches who have needs that the KBF may be able to meet. Foundation staff and board member representatives will provide education sessions on the Foundation's ministries at regional sessions in the coming months.
We strongly believe this volunteer ministry will produce significant resources to assist local Baptist churches in reaching our communities and our world for Christ. Please prayerfully consider becoming a member of this new group of Kentucky Baptist men and women. Your efforts through KBF Ambassadors may help encourage and educate your friends in effective ways to provide for their families and Kingdom work.
To learn more about the KBF's Ambassador Program, you may contact the Foundation's trust counsel, Laurie Valentine, or me at our toll-free number (866) 489-3533.
Richard Carnes is the president of the Kentucky Baptist Foundation, PO Box 436389, Louisville, KY 40253; toll-free (866) 489-3533; KYBaptistFoundation.org

The information in this article is provided as general information and is not intended as legal or tax advice. For advice and assistance in specific cases, you should seek the advice of an attorney or other professional adviser.