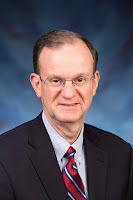 By: Richard Carnes
The Kentucky Baptist Foundation continues to discover that a large number of churches are unaware of the fiduciary services and investment management oversight services that the Foundation makes available to Kentucky Baptist churches and institutions. Of course, we are grateful and pleased to already be assisting the investment needs of many churches using the Foundation's investment oversight services and we desire to extend this capability to many more churches.
You may have heard the term fiduciary and wondered what it means. A fiduciary is a person or organization who has the legal responsibility for managing someone else's money, including members of a church's investment committee, foundations, endowments, and trustees of private trusts.
Fiduciary status is generally defined as a person who:
· Manages property for the benefit of another;
· Exercises discretionary authority or control over assets;
· Acts in a professional capacity of trust and renders comprehensive and continuous investment oversight
A fiduciary demonstrates prudence by the process through which investment decisions are managed, rather than by showing that investment products and techniques are chosen because they were labeled as "prudent."
The Kentucky Baptist Foundation is honored to serve Kentucky Baptist churches and Kentucky Baptist institutions through its fiduciary service of investment management oversight. We are happy to provide information about the Foundation's investment service to those churches who may have this need. We encourage church leaders to invite Foundation staff to make an investment presentation to the appropriate leadership group in the church for consideration and comparison.
The hallmarks of the Kentucky Baptist Foundation's investment management oversight service are: value added performance; Christian-based social screening of investment securities; and below market fee cost. Although past performance is no guarantee of future results, the Kentucky Baptist Foundation can provide your church with references of other churches that have been satisfactorily using the Foundation's services for a number of years.
To get started with learning more about this valuable fiduciary service of the Kentucky Baptist Foundation, you may contact the Foundation's trust counsel, Laurie Valentine, or me at our toll-free number (866) 489-3533.
Richard Carnes is the president of the Kentucky Baptist Foundation, P O Box 436389, Louisville, KY 40253; toll-free (866) 489-3533; KYBaptistFoundation.org
The information in this article is provided as general information and is not intended as legal or tax advice. For advice and assistance in specific cases, you should seek the advice of an attorney or other professional adviser.