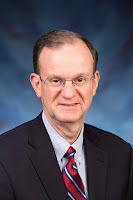 By: Richard Carnes
Is it truly necessary for us to have Wills? This is a common question we receive at the Foundation.
The answer is: Yes, you need a Will!
Yes, there are multiple ways to pass property to a surviving spouse, such as joint tenancy with right of survivorship, and beneficiary designations. Nevertheless, everyone should have a Will for the following six reasons:
To be a good steward – a good estate plan reduces death taxes and probate expenses, leaving more for you to pass to your family and charitable causes at your death.
To avoid the "Will" the state has written for you – Kentucky's "Intestate Succession Statute" – the state's plan of asset distribution may not meet your family's needs or accomplish your estate planning objectives.
To retain input – Making a Will allows you to determine who will get your assets and how the recipients will receive those assets at your death.
Making a Will allows you to designate whom you want to be appointed as guardian for your children if both parents die before your children reach age 18.
Making a Will assures smooth administration (probate) of your estate at your death.
Making a Will allows you to name an executor who will handle the tasks of determining what you own at death, paying your final debts and expenses, managing the assets in your estate, preparing all required tax returns and distributing your assets as your Will directs.
The Kentucky Baptist Foundation's "Common Mistakes Everyone Makes In Estate Planning"seminar can provide more answers about why you need a Will. Contact Richard Carnes at
[email protected]
schedule this one-hour, free seminar at your church.
Also, if you have questions about Christian estate planning strategies or want to request a private estate stewardship consultation, please contact the Kentucky Baptist Foundation's trust counsel, Austin Wilkerson at [email protected] call the Foundation's toll-free number (866) 489-3533.
Richard Carnes is president of the Kentucky Baptist Foundation, P O Box 436389, Louisville, KY 40253; toll-free (866) 489-3533; KYBaptistFoundation.org

The information in this article is provided as general information and is not intended as legal or tax advice. For advice and assistance in specific cases, you should seek the advice of an attorney or other professional adviser.