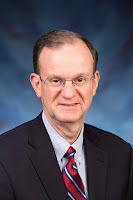 By: Richard Carnes
Graduation ceremonies are occurring across the Commonwealth of Kentucky at this time. It is always an exciting time for students and their families as they celebrate the achievement of an educational milestone and look forward to the next phase of the student's life. For many students, college or technical school awaits them, but some budding young scholars must defer the hope of achieving their academic dream due to a lack of sufficient financial resources.
The Kentucky Baptist Foundation has been honored to work with numerous donors whose passion is helping students secure the necessary financial support to achieve their educational goals. One example of this collaboration is the scholarship funds that donors have established at the Foundation to help off-set the costs of student's education. The Kentucky Baptist Foundation's scholarship committee met recently to review student applications and grant scholarship awards for the upcoming academic year. The scholarship committee was privileged to award 74 scholarships to college and seminary students totaling $93,385 from the 17 scholarship endowments administered by the Foundation.
You may share this same passion for education and would like to explore how you can implement a legacy gift plan to fund a scholarship endowment like the ones referenced above. Or you may have a Christian school, college or Baptist seminary that you would like to support through a legacy gift. Also, churches can create scholarship funds through the Foundation that will provide much needed financial assistance to their college bound students.
The Kentucky Baptist Foundation staff is available to assist you by providing guidance in creating these scholarship funds and charitable endowments to support worthy Christian education causes across the state and the nation. To learn more, you may contact the Foundation's trust counsel, Laurie Valentine, or me at our toll-free number (866) 489-3533.
Richard Carnes is the president of the Kentucky Baptist Foundation, PO Box 436389, Louisville, KY 40253; toll-free (866) 489-3533; KYBaptistFoundation.org
The information in this article is provided as general information and is not intended as legal or tax advice. For advice and assistance in specific cases, you should seek the advice of an attorney or other professional adviser.