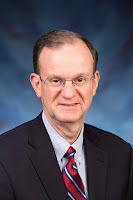 By: Richard Carnes- President & CEO
It is with great excitement and a tremendous sense of responsibility I begin my journey with the Kentucky Baptist Foundation. First I want to express humble gratitude to our Lord and Savior Jesus Christ for entrusting this Kingdom work assignment to me. I ask for your prayers that I will daily commit my energies to His work with all persons He brings into my path as I travel the Commonwealth of Kentucky, sharing the message of the Foundation and its legacy giving services.
Second, I wish to express appreciation to the Foundation's search committee and its chairman Willis Henson, the Foundation's Board of Directors and its chairman Charles Barnes, for their vote of confidence in offering me the opportunity to serve alongside them in leading the legacy stewardship ministry of the Foundation. The professionalism and thoroughness of their search process is a model that all organizations, both nonprofit and corporate businesses would be well served to emulate.
Also, I am honored to serve with an incredibly talented and committed group of Foundation staff, Janet McIntosh, Barbara Spencer, Katrina Umphrey and Laurie Valentine. Each of these ladies is dedicated to helping individual Kentucky Baptists who are seeking to live out their stewardship obedience to Jesus Christ through their legacy gift decisions.
I want to express my sincere thanks to all the current Kentucky Baptist Foundation clients, including individuals, churches, Baptist institutions and the KBC Mission Board that have entrusted the Foundation with the management and administration of funds to benefit the wide array of ministries being conducted by Southern Baptists across Kentucky, the United States and around the world.
As so ably stated many times by Dr. Barry Allen, the former president of the Foundation, "we look forward to extending to you the services of Kentucky Baptist Foundation, to facilitate the stewardship of that which the Lord has entrusted to you to use for His purposes." What a great way to begin the "Journey"!
Richard Carnes is the president of the Kentucky Baptist Foundation, P O Box 436389, Louisville, KY 40253; toll-free (866) 489-3533; KyBaptistFoundation.org